Alrighty, here's a thread on how to properly form, groom and wear your new Fancy Blue Beret.
First off, I am assuming you're starting with the $9 beret from Armyuniverse.com in Navy Blue. This will work with other berets, though it might be slightly different, it is the same principle.
With the Fancy Blue berets, they come with a black cloth interior. You're going to want to cut that out. It doesn't have to be beautiful, and how frayed it is near the brim could impact how itchy that part is. The goal of removing this is so you can get to the inside of the felt to shave (that comes later).
When the interior cloth lining is removed, you *should* cut down the cardboard flap inside. it's a half circle, but you only need the size for the flash you'll attach later. Since you don't have a flash yet, don't cut it out, or you could make it too small. But here's an image of my Army beret with a flash attached that I just removed the sides of the half circle. You remove these so that when you form the beret it doesn't look too fat and weird on you: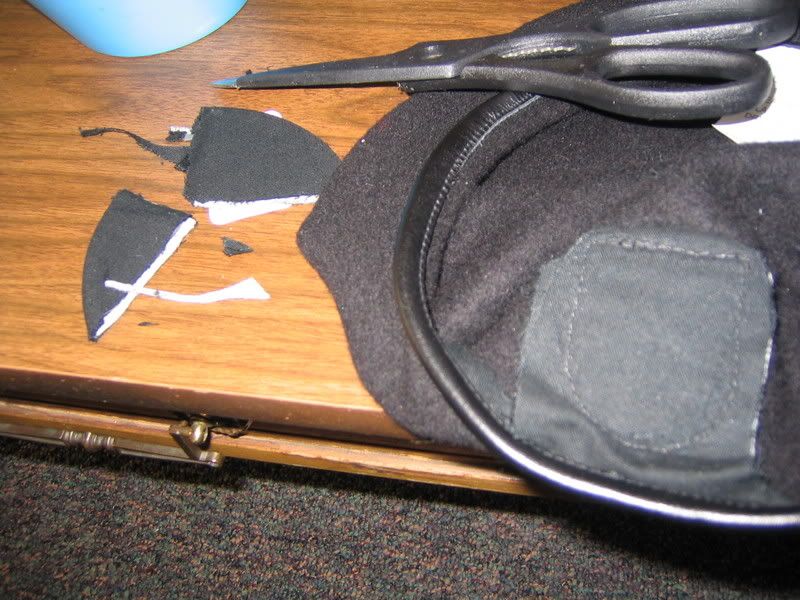 If you don't cut out the cardboard, the sides will flare out, and that's why berets look like chef hats. That, and the front cannot properly "flap down" next to the sewn on flash. Here's a beret without the cardboard cut down (and formed, of course):
Next you need to shave the inside and out. Take cheap razors that come in large packs, because this will ruin a few razors. Even the nice ones, and I don't plan on paying $20 in razor heads to do this. You want to shave it until you start seeing the lines of threading. It's somethign you have to be careful with though, since you don't want to cut holes into the beret, which can happen, and not necessarily meaning you have to throw the beret away. It can be bad if you have long hair and it sticks out the hole, though.
Just like it says, shave the beret: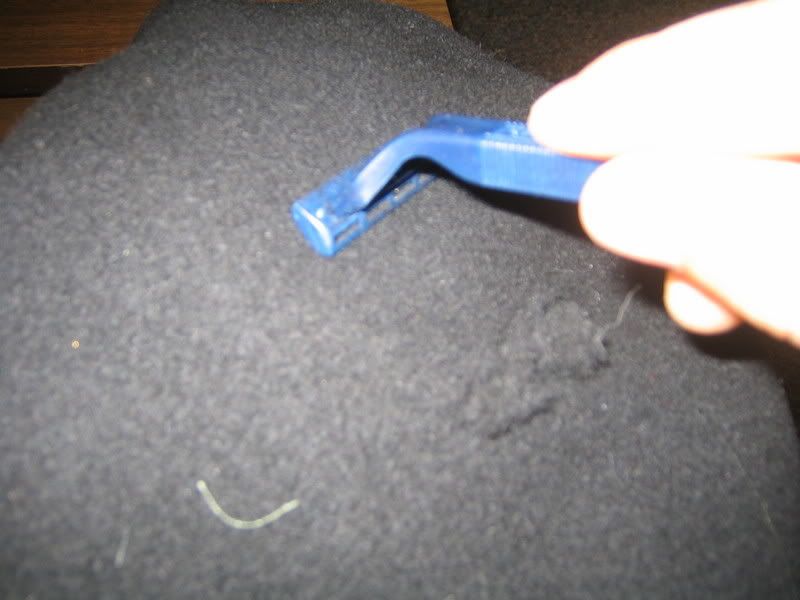 Once the beret is shaved (inside and out) the flash (the fabric on the front of the beret) is attached and the cardboard is removed on the sides (optionally you can cut interior cardboard to allow rank or crests pinned on the beret), it should look like this, my old active duty airborne beret. Notice the lines in the beret from the threading: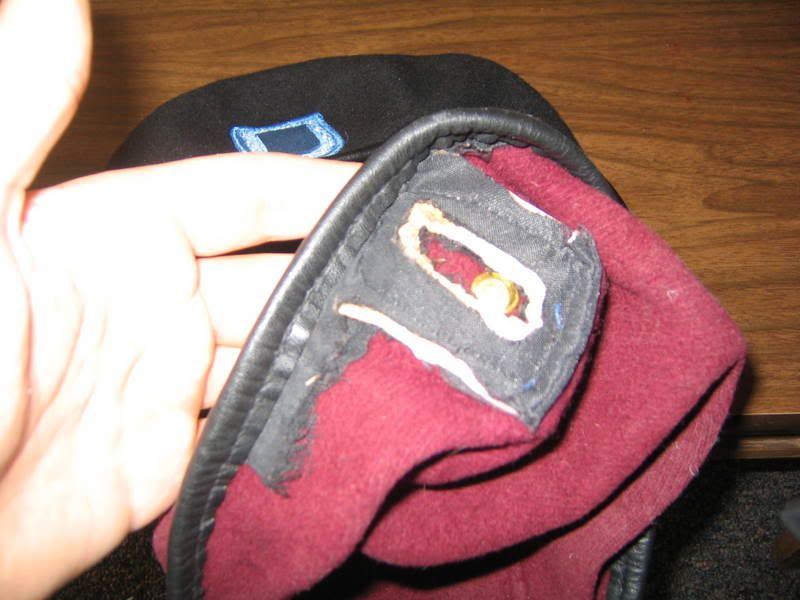 After you shave the beret, you'll want to put it in very hot water, and let it soak for a few minutes. This gets it hot and pliable (easy to bend or move or stretch). I just used hot tea water in a plastic tub for mine. You can do whatever you'd like, but remember that whatever you put it in will have a lot of little lint pieces from when you shaved it, and probably some dye from the color of your beret, so it's good to use cheap plastic tubs or maybe a metal cooking one:
(yes those are Steven Seagal energy drinks)
Once it's good and hot you're going to put it on. It might be a bit hot, but don't be a pussy. Also don't be stupid and let it permanently burn you. Let it cool off until it's barely bearable to wear without scalding you.
Then you "Form it". Here's where you put it on your head, and take the front and pull it as far down as you can, over your right eye. The whole front comes down, and later, when done drying, you pull the flash-area up and it has a good shape. Take it out of the water, ensure it's not too hot, and put it on. Try to get it straight, or maybe the brim slightly canted up on the left side. If the beret is too big it will not fit properly and cant too much. Pull the right side down as far as you can, and straighten/flatten the top. Then let it sit like this for a couple hours until it dries. I took my shirt off, because it's wet and can drip some.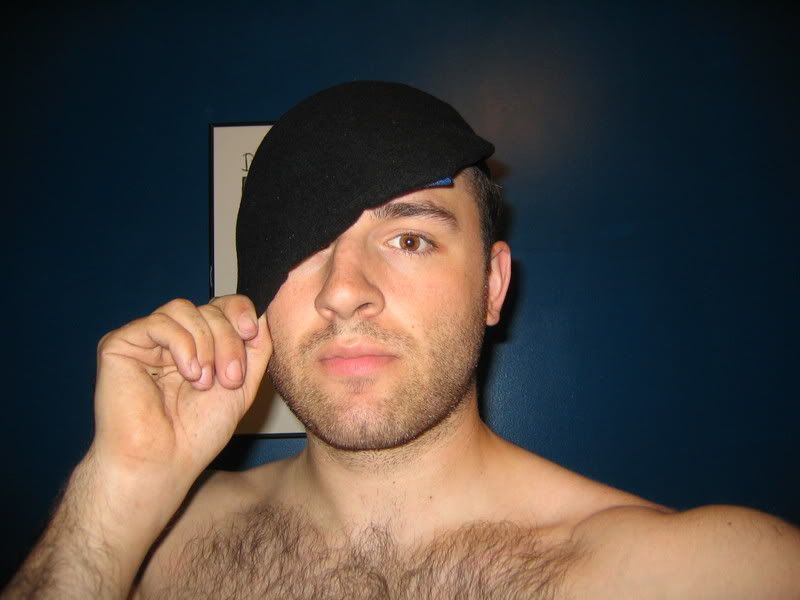 Once it's dried, you pull the crest up and let the flap hang against your head. VIOLA!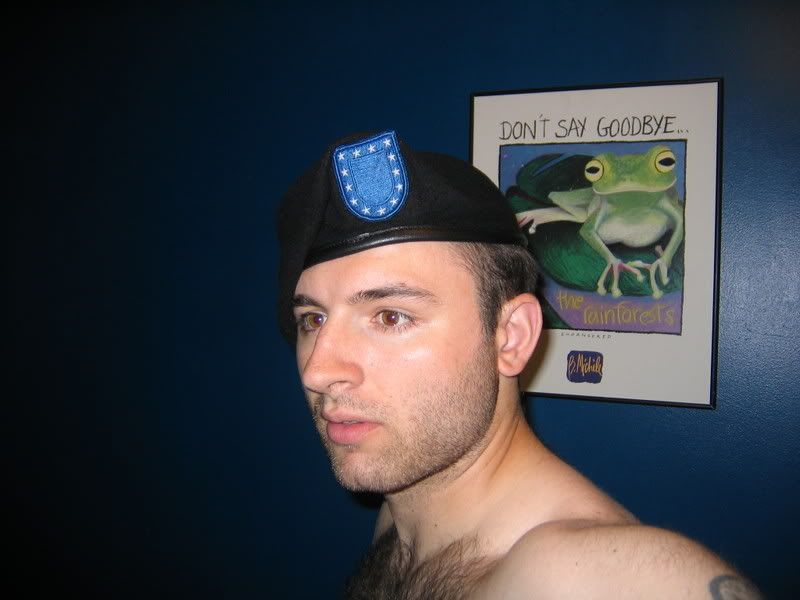 Impressions: US Army Airborne Infantry, Austrian, Swedish, British