We should start a conversation about a good mil-sim loadout to dress up and play Hajji. With the majority of our conflicts in modern times in Arab countries, the average person against US forces is a Hajji. There are various types of Hajji Islamo-crazy bad guy these days (Chechyan, Afghan, North African) but we'll focus on proper arab bad guys so lets post here for a load out for an Iraqi or Palestinian insurgent.
Here are some basic principles to get an authentic load out, and you can basically mix and match within it to get a good impression:
1) Black is a color of power, authority and "scary" factor. They wear all black in the Mahdi army to appear menacing. Death squads wear all black. If not all black, there is a lot of black worn. A staple item worn is a rig for carrying magazines, and if not a ChiCom vest, it's an all black AK chest rig, cheap and airsofty, which is perfect for us. I'd recommend one of these: (
http://shop.tacticalthings.com/images/W ... st-Rig.jpg
) which you can get for usually $20 or less. I plan on getting one because a black chest rig + black ski mask look pretty mean.
2) They wear face coverings. This is to hide their identity, because they like to do horrible things and they don't want that to seep into their personal lives of oppressing their women, vying for social standing over their neighbors and going to mosque to be seen as a nice person. They usually wrap their checkered scarves over their face, wear a 3 hole balaclava, or wear a KKK looking hood (especially the last one in death squads). I plan on wearing my 3 hole ski mask to complete the look. 3-holes are more realistic, keep air flow to your mouth and help me yell at people. No mouth protection, but I don't think ski masks really stop a bb at the mouth anyways.
3) They like to use religion as a tool of authority and to help pump up for battles they know they're about to get beaten in. Well they might not think they're going to lose, but by now they've probably realized in a toe to toe fight the US fucks their skinny, undisciplined asses up. This is often seen by waving Korans around and shouting cliche phrases such as the Shahada or God is Great, or if they're Shia in particular, specific Shia quotes about Ali and the impending prophecies of Islam. I am partial to the Hamas green headbands myself, though the Mahdi army tends to wear red. Black and white are also popular colors. White is the color of purity and for their Shahids (martyrs) they wear all white as a sign of purity and how they're going to the afterlife to collect their 72 world of warcraft playing virgins with no sins on their chest. I guess beheading a fellow Muslim because he works in the government isn't sinful to them. You should know that this isn't Islamic at all, and these guys are savages that would be doing this with or without Islam as an argument for being right in the act.
4) Use weapons that are appropriate. AK variants, RPG's, Stolen or acquired Armalites and older .308 variants like FALs. Whatever they can get their hands on, they'll use. An AK is timeless and that's what I'll be rolling with. SVD sniper rifles are also popular, but they rarely sight them in properly. Also they love firing from the hip and using stockless or AK's with stocks underfolded. Iraq is urban so accuracy is not AS important but they're still retarded.
5) They usually wear gear suitable to the environment and weather, with the exception of Black. They love their evil black look. So you'll see a lot of people just throwing a face cover and an AK chest rig on and going to fight the infidels or behead their neighbors. For clothing, realize that their styles are most closely resembling 1970's american stuff, so for that, I'd suggest things like retro T shirts, old, crappy jeans, or addidas track suits. Also old woodland or OD camo seems to work. And above all, they're usually dirty, ragtag and not matching. No discipline so don't go and blouse your boots. For summer, I'll be wearing a T shirt, woodland camo pants, 3 hole, black chest rig and my AK. With hamas headband of course, and a pair of black shooting gloves. In colder weather, they wear old dingy field jackets and track jackets.
6) They're in an 80's/70's time warp. So for jewelry, they like gaudy flashy cheap watches and rings. For glasses, old aviators. For clothing, go to goodwill or mismatch a pair of woodland bdus with some tennis shoes. Old 70's Reebok ones. I'd recommend completly ignoring solid uniforms because you run the risk in airsoft of looking like a backyard warz kid playing and trying to be a soldier. So go over the top with the retro look and forgo BDUs if possible.
I'll add more points when I can think of them or you suggest some good ones. This is a forum post and it's all about opening dialogue to look the part. At Lord of War the headbands and ski masks were sexy, but if we can get a full side wearing this stuff, it'll just be immersive and awesome and make all us old vets go into ptsd mode and start punching your sniveling hajji faces in.
(that last part is kind of a joke)
NOW FOR SOME EXAMPLES:
Simple look. Black ski mask. Retro clothing. SVD. Satchel man purse carrying spare rounds or water or whatever you need. Next to him a guy dressed for the weather with plastic sandals, a checkered scarf covering his face and an old surplus LBV in woodland. AK of course (and underfolded)
Here's a kid wearing lots of black. Checkered Scarf, RPG and track top with dark black pants. Notice the love for Addidas stuff in the shoes. Standard RPG carrying backpack too: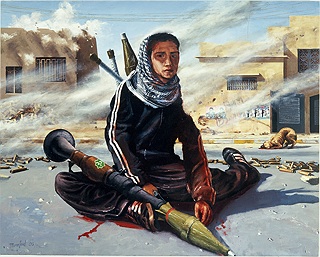 Here's a good one of the checkered scarf with the headband holding it up and tucked behind him like a scarf-mullet. Standard all black, chicom and he's actually aiming.
This one shows it a little colder (deserts get very cold) so they're wearing dingy retro jackets. The key to making this stuff believable is getting your clothes dirty. Notice they all have RPGs and AKs and one guy has a black LBV. Faces all covered for guilt-free crime.
This one could be Hamas, but it is not. Black is popular among arabs as a menacing color and the green headbands are a color that is very prominent in muslim culture. All black death squad wearing headbands and toting usual guns of their ilk:
Here they're going for the all white look. YOu can make a head scarf with just simple fabric from a fabric store in the appropriate color (white or black are the best choices) and then just wrapped around your head like a diaper. black chest rigs on top of the all white.
Here's a good example of a 3-hole with a black headband over top. Retro clothes and RPG. Standard stuff.
Here they've got a mix of checkered and all black head scarves. Covering face as usual. OD or black chest rigs (chicom or otherwise). All black. Front guy has a Koran in his chest rig (though he probably can't read it to know that he's not following it). These are Mahdi Army:
Hopefully this helps you get a better idea of a real impression.
Impressions: US Army Airborne Infantry, Austrian, Swedish, British